Belfast Friendship Club meets Thursdays, 7pm to 9pm
at Common Grounds Cafe, 12-24 University Avenue, Belfast BT7 1GY, Northern Ireland
Pop in for coffee and a chat or just sit and relax.
You will be:
 • welcomed and given a name badge when you arrive
• introduced to others from all backgrounds and nationalities
• amazed by the warm and happy atmosphere
"I don't feel as a foreigner here… because everyone is here from all over the world… We are not just acquaintances of each other.  We are friends."  Zsuzsi, from Hungary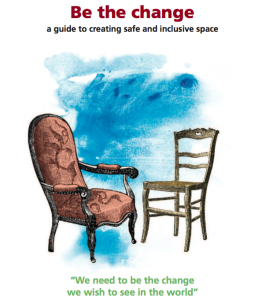 Information about 'Be the Change', a booklet sharing the learning from Belfast Friendship Club, can be found here: Be the Change – a guide to creating safe and inclusive space.

A diverse bunch of people with a lot in common
Belfast Friendship Club is a space for people from all over the world,
and for Belfast residents, to:
meet in a diverse, supportive and relaxed environment,
get information,
get involved in activities and events,
make new friends and help each other.
We come from many walks of life and all over the world – including Belfast. Some of us are in work, looking for work or supporting family elsewhere.
We may be retired, or studying, or unable to work, perhaps because we are seeking sanctuary.
We may be distant from our original 'homes' and families and learning English as a 2/3/4/5th language as well as making another life here.
We create safe space for building friendships but we are not a dating agency!
"It's just the welcome you feel when you go in." Yvonne, from Northern Ireland
 "People feel the freedom of being equal… Everyone here is like a brother or sister, respecting each other… I feel I'm a citizen of this country now."  Suleiman, from Somalia

Celebrate the 'difference' but see the similarity
Relax and be yourself.
Our weekly two-hour meeting is the 'heartbeat' that drives everything else, including the chance to meet up at other times.
Many activities are member-led and you can take part in sporting or social events, join volunteering or leadership opportunities, or enjoy trips outside of Belfast and much more.
We offer a warm welcome to all, regardless.
As the Irish proverb says: 'it is in the shelter of one another that the people live.'
"It's my home."  Norma, from Zimbabwe
"I hope to be back soon and once again make more friends in two hours than a normal citizen of my home town of Stockholm would make in a lifetime." Henrik, from Sweden

To be part of building a better Belfast – together
At some point in our lives and for reasons outside our control, any of us may be in financial hardship for one reason or another.
This can be a barrier to socializing, particularly in an unfamiliar city and making it harder still.
Your donation opens the door to a way of belonging where we are valued for who we are and what we bring, regardless of circumstance.
"Magical… an excellent example of the difference between charity and solidarity." Charo from Peru.