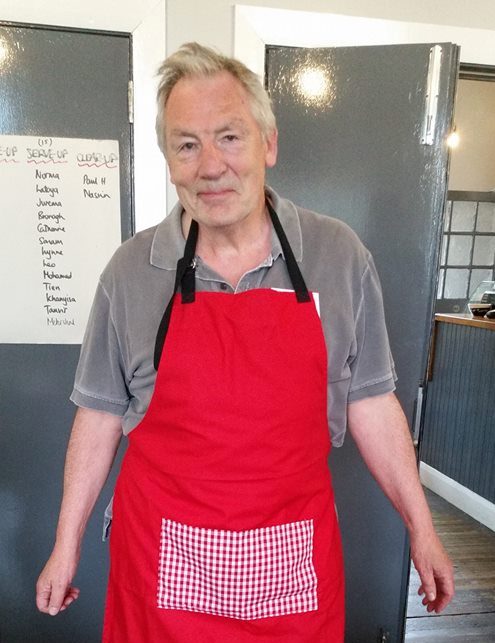 Welcome to the Holylands' Big Lunch
Are you coming to the Big Lunch this Sunday?
Belfast Friendship Club, Wildflower Alley, City Church and Northern Ireland Muslim Family Association are ready to welcome you.
There will be dragon dances, music, food and more.
It's a free event. See you there!
The photo shows Paul, one of our lovely volunteers, in the servers' apron specially designed for us 🙂
What's on
12pm – Opening at City Church, 12-24 University Avenue
1pm – Food, music and children's activities
3pm – Dragon Parade to Wildflower Alley and Muslim Family Association, Rugby Road
What the media said
Read more:
Holyland residents get together to share food and remember Jo Cox
More information
www.eventbrite.co.uk/e/holyland-big-lunch-great-get-together-tickets-34716317440.  (You don't need a ticket: you can just turn up.)
Be there by 1pm if you want to eat. It's first come first serve! And bring salad, nibbles or soft drinks to share if you can.
This is part of the UK-wide Great get Together. The aim is:
to remember Jo Cox MP,
to bring together our diverse communities,
and to celebrate what we have in common.
"…we are far more united and have far more in common with each other than things that divide us", Jo Cox MP Maiden speech to Parliament